How To Keep Outdoor Christmas Trees From Blowing Over
|
This post may contain affiliate links, my full disclosure can be read here. As an Amazon Associate I earn from qualifying purchases.
Tired of your outdoor tree falling over? Learn how to keep outdoor Christmas trees from blowing over on your porch or yard.
Decorating your front porch or yard with Christmas trees is a fun way to celebrate the holidays.
But whether you are using real or artificial Christmas trees outside one of the most frustrating problems is that they blow over so easily.
That leads to broken decorations, having to set everything up over and over again, and the risk of someone getting hurt when a tree falls over.
Learning how to secure outdoor Christmas trees securely can save you a lot of time and frustration during the holidays.
These easy tricks have worked well for me in the past when I've decorated my yard and porch with trees.
If you live in a very windy area you may find that you need to use a combination of methods.
How To Keep Outdoor Christmas Trees From Blowing Over
Fence Post Base
ADLER Fence Post Base Brackets Heavy Duty Steel Powder-Coated Anchor Support Use for 4×4 Wood, 11" x 4.3" x 6, Black
A fence post base isn't just good for fixing a leaning fence post they can be really handy in securing an outdoor Christmas tree.
These post-holders have holes in the bottom that you can screw into your porch, or use stakes to secure them into the ground.
Then place the trunk of your Christmas tree inside it, try to use one that fits snuggly, and screw through the side holes into the trunk to secure it.
This fence post brackets idea will work best with a real tree.
Add Weights
One of the main reasons artificial Christmas trees fall over outside is that their base isn't heavy enough to keep it grounded when the wind picks up.
You can help make the base heavy by adding bags or boxes of rocks, sand, or even cat litter to the bottom of the tree.
Make it pretty by placing them inside burlap sacks so they look like mock Christmas presents under the tree and your neighbors will never know.
Try An Umbrella Stand
EliteShade Umbrella Base Water Filled Stand Market Patio Outdoor Heavy Duty Umbrella Holder
Umbrella stands are made to hold large outdoor umbrellas even in windy weather. This can make them a great solution for holding artificial trees outside and keeping them from blowing over.
Make sure the one you get has a pipe diameter large enough to fit the trunk of your tree inside. Then fill the base with sand and place the tree inside before tightening it down well.
This trick works well in combination with the extra bags of weights or tie straps if you are in a very windy area.
Shepherds Hooks
Ashman Shepherd's Hooks, Black, Set of 4 Made of Premium Metal for Hanging Solar Lights, Bird Feeders, Mason Jars, Plant Hangers, Flower Basket, Christmas Lights, Lanterns, Garden Stakes and Weddings
Shepherds hooks used to support having baskets during the summer can also make good supports for outdoor Christmas trees.
Make sure to use a heavy duty one and drive it into the ground securely.
Then place the Christmas tree next to the post and tie them together with strong twine or zip ties.
Shepherds hooks work best for light weight artificial trees.
Tie Straps
If your outdoor tree is near a fence or railing another option is to use a ratcheting tie strap.
Place the tie strap around the trunk and the railing and secure it tightly. This option can work well for both artificial and real cut Christmas trees.
If there are no posts nearby that you can secure the tree to, another option that may work is to use tent spikes and rope that's been pulled tight to hold the tree in place.
Just be careful when setting this up that it's not a tripping hazard in your yard.
Of course, you can combine these ideas together to make sure your Christmas trees stay in place in windy weather so you don't have to go outside and try to fix it.
While these ideas have worked well for me in the past to keep my Christmas trees in place if you are expecting a really bad wind storm it's always a good idea to move the decorations to a safer place if possible.
Connect With Homestead Acres!
Be sure to follow me on social media, so you never miss a post!
Facebook | Twitter | Pinterest | Twitter
Visit my Amazon store to find all my favorite gardening, homesteading tools, and gadgets plus all of my printed garden books and journals!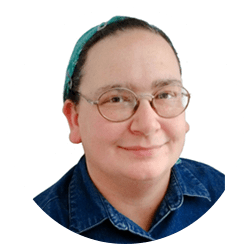 Kim Mills is a homeschooling mom of 6 and lives on an urban homestead in Ontario, Canada. Blogging at Homestead Acres she enjoys sharing tips to help you save money, grow and preserve your own food.